You denied a Team Volunteer!
When denying a Team Volunteer request, you are denying that user access to the Team Admin. Denied Team Volunteers WILL NOT have the ability to add, edit, and delete any information related to your team.
Users will be notified that the request was denied so they are aware you've got MaxPreps handled. They are able to send multiple requests to become a Team Volunteer, but as long as you deny or ignore these requests, they will still be unable to access the admin.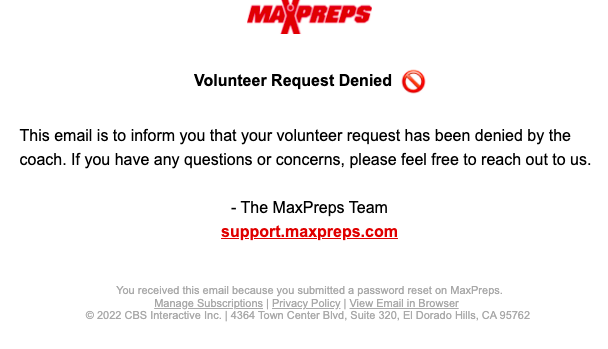 If you do not want to receive these requests at all, you are able to disallow Team Volunteer requests. You will see the option to turn these off in the bottom right hand corner of a request sent in.
Any other questions regarding denying Team Volunteers? Please reach out to our support team by submitting a request.