If you are a coach or athletic director, follow the steps below to learn how to access your Coach and or AD admin accounts to manage your teams and or school. If you don't have access to your coach and or AD admin accounts, please request access. 
How to Login:
Accessing your Coach or AD Admin Accounts:
Go to MaxPreps.com and sign into your MaxPreps account.
1. Place your cursor over 
 in the upper right hand corner.    
2. In the drop box under select your Team or School you are trying to access.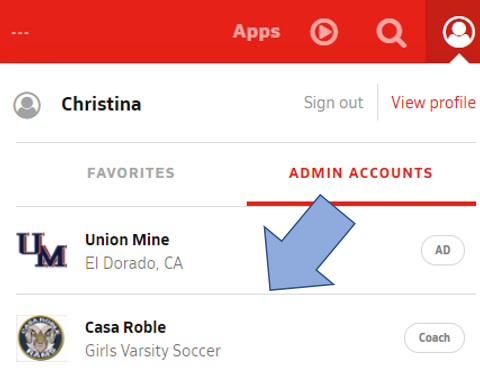 3. You will be redirected to your Coach Admin or AD Account. This is where you will go to enter in any team or school information. 
Request Admin Access:
Obtaining Access to your Team or School:
Gaining access to your Team's Admin Account or AD Admin Account is easy!
If you're a Coach or AD, click here and follow the steps to create your free membership account today!
If you have any questions, please submit a request and our support team will be more than happy to assist you.