Looking to maximize an athlete's profile on MaxPreps?
Getting as much information as possible on MaxPreps is crucial for every prospective college athlete. Countless college scouts at every level visit our site on a daily basis!
Below you can learn about athlete profiles and how to get everything you can out of MaxPreps to help your athlete get recognized.
Career Profiles
Every Athlete's Home Page

Career profiles are the main landing page for each athlete. This page will display the most current sport season an athlete is participating in along with the other sports they play.

Photos and videos spanning across all four years of their high school careers will also be displayed here. You are also able to switch between sports athlete's participated in if they are multi-sport athletes.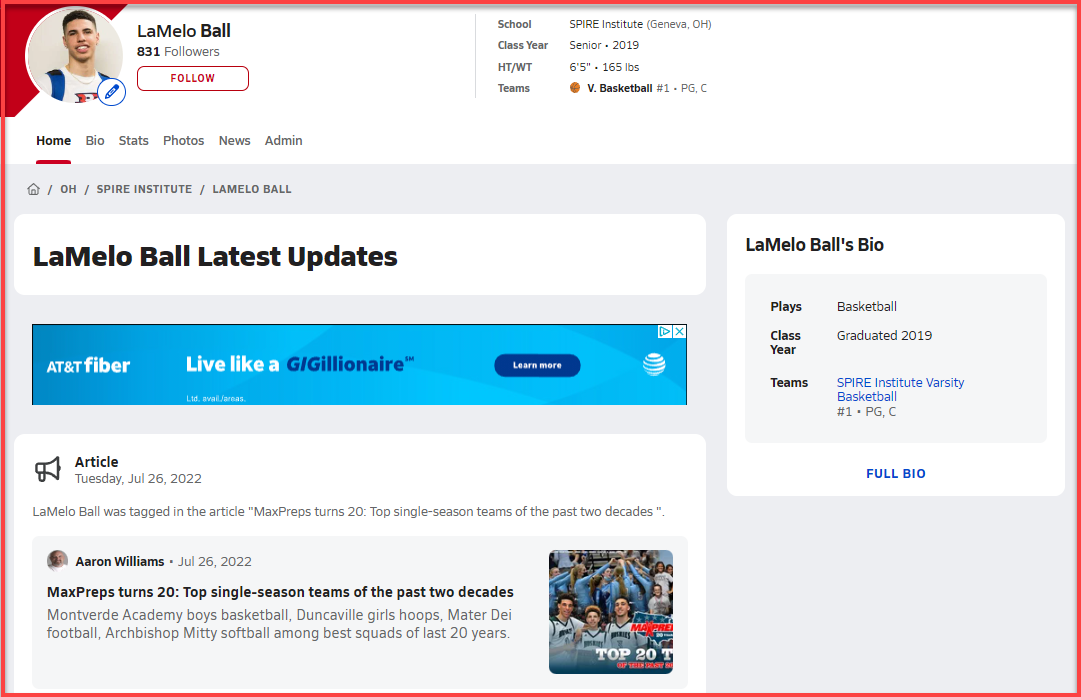 A timeline will be displayed with updates made to the athlete's profile in chronological order (Most recent to oldest). Updates that will be shown include:
Tags in any MaxPreps published article.

Tags in any MaxPreps published photo galleries.

Tags in any video published on MaxPreps.

Stats added for a game.

Selections for any MaxPreps awards (Player of the Week/Year, All-American).
Maximizing the MaxPreps Platform
How to Maximize the MaxPreps Platform
Roster Listings:
Making sure an athlete has all of the years an athlete participated in a sport is crucial. College scouts seeing a gap between years may lead them to believe they are not truly committed to their sport.

Having a photo, height, weight, positions, and class year are also important figures that college coaches use to help make decisions during the recruitment process.
Statistics:
Stats are THE data points college scouts are looking at the most on our site. If there is one thing we at MaxPreps would say is the most important information to have on our site, this is it.

Not only do stats have a good barometer for college coaches to work off of; your chances of an athlete being selected for a MaxPreps award increase ten-fold.
Learn more about some of the MaxPreps awards here.
Videos:
Having highlight videos and game film is also a great way to gain exposure for athlete's. These videos give a chance for scouts to learn an athlete's playstyle to see if they are compatible with the program.

Videos can be submitted on the Videos tab on an athlete's profile. MaxPreps and HUDL also are partnered to simplify this process.
Learn more on syncing videos from HUDL into MaxPreps.
Measurements:
Add measurements such as height, weight, wingspan as well as personal records for weight lifting and agility. Adding these measurements give college scouts a clearer vision of a prospective athlete to see if they are compatible with the program.
Any Questions?
If a name is misspelled or something else you would like fixed, corrected or updated on a roster, please use the Rosters Correction Tool.
You can also reach out to us by submitting a request.