MaxPreps and Hudl have teamed up to save coaches time and increase the exposure for teams and athletes.
Schedules, Rosters, and Videos will transfer over to MaxPreps.
Team Data Syncing with Hudl to MaxPreps:
Roster Sync: If you enter your roster on Hudl, the information is sent to your MaxPreps account.

Import your MaxPreps Roster over to Hudl

Schedule Sync: If your schedule is listed on Hudl, it will copy over to MaxPreps.

MaxPreps will not receive any games vs. TBA opponents, scrimmages or practices
Import your MaxPreps Schedule over to Hudl

Tag stats live (Scores & Stats from Hudl to MaxPreps): Direct sync with stats is only available for football.

Basketball, lacrosse and volleyball, you will export the file and import into you coach admin account on MaxPreps.

Stats entered on MaxPreps to Hudl: If you enter your stats on MaxPreps, that information is not able to be imported into the Hudl account.

One way sync-Hudl to MaxPreps

Hudl Video Highlights on MaxPreps: All the videos marked as highlights on your Hudl account will be sent to your MaxPreps Team page.
Lower Level (JV & Freshman):The data sync is only for Varsity sports.
MaxPreps Schedule & Rosters
If you don't have any team information entered within your Hudl account, you can copy over your MaxPreps roster and schedule. You should see an option like this within your Hudl Admin Account.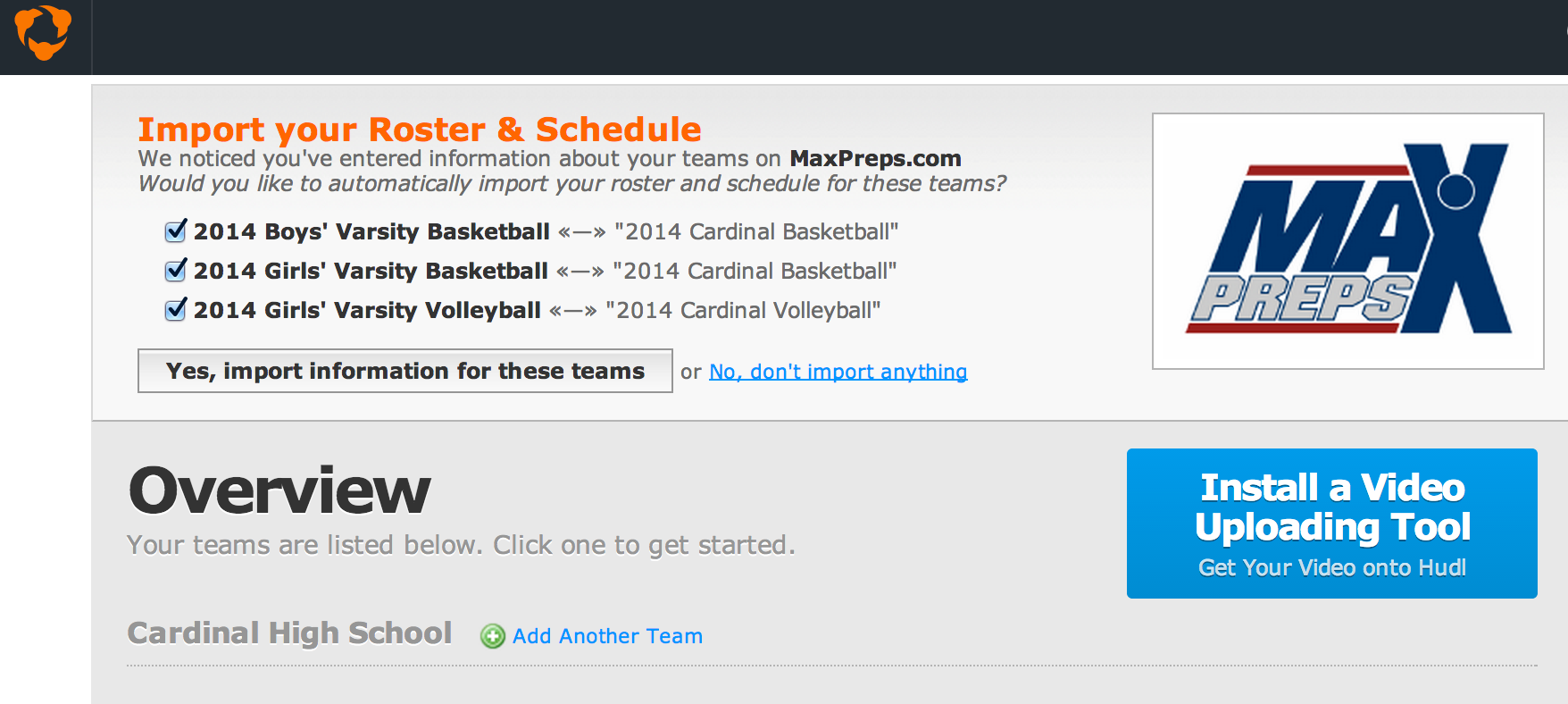 Only data or video highlights marked as Public will be exchanged. Private data or video highlights will remain private. As always, privacy is a main focus of both sites.
For more information on managing your privacy settings in your Hudl account CLICK HERE.
Only public Hudl team's video will display on MaxPreps. If your team's video is not displaying on MaxPreps your Hudl team is mostly likely set to private. Only team administrators can change the team privacy settings.
1. Log in to Hudl.com, hover over Team and select Team Settings.
2. To allow anyone to view your team's highlights (not game film), Select, Allow recruiters, parents, and fans to watch my team's highlights
3. To keep highlights private and view-able only by team members, select, Don't Allow recruiters, parents, and fans to watch my team's highlights.
4. Selecting, Don't Allow won't affect a verified (logged in) recruiter's ability to find and evaluate your athletes.
5. Then Select, Save My Team's Highlight Preference to save your changes you've made.