MaxPreps and HUDL are teamed up to save coaches time and increase the exposure for teams and athletes.
With the partnership with HUDL, your team & roster information automatically syncs over to MaxPreps.
If you see a HUDL icon next to any athlete within your Coach Admin Roster page, that means their profile is linked to HUDL. If you need to make any changes to that athlete's profile on MaxPreps, you will need to adjust their information from your HUDL account. That information will then sync to MaxPreps and overwrite the current information.
Edit your Teams Roster
Roster Admin Color Key:
Athlete highlighted in

Grey

means the athlete has stats on MaxPreps.

The HUDL icon highlighted in

Orange

means the athlete has HUDL Highlight Videos.

The HUDL icon highlighted in

Grey means the athlete is connected to Hudl - ALL ROSTER CORRECTIONS NEED TO BE MADE ON HUDL'S SIDE.

Make all Roster Edits through your HUDL Account:
If your team is linked with HUDL, you are able to edit which athletes are displayed publicly on HUDL and MaxPreps. If you're the Admin to the HUDL account, sign into your HUDL account and follow the steps below to learn how to edit your athletes.
Hover over Team and select Manage Team.

Select, the action menu and select Public Roster.

Uncheck any athlete(s) to remove them from the public roster on MaxPreps.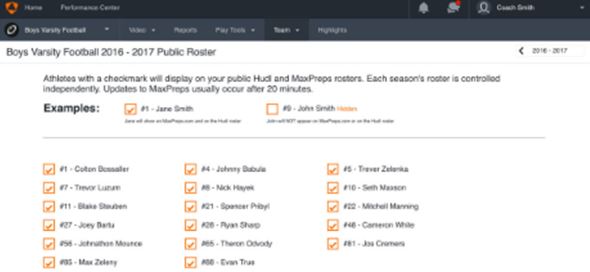 Removing your Athletes
Removing Athletes from the HUDL Roster:
Coaches please have your athletes properly listed on HUDL. Anyone that is listed on your Varsity HUDL Roster will transfer over to MaxPreps. Be sure that your rosters are all set when the season starts.
Log in to Hudl.com, then hover over Team and select Manage Team.

Select, Athletes.

Select, the athlete you would like to remove from the team. You can check multiple boxes on the left to remove more than one member at a time.

Select, Edit.

Select, Remove Member.

Select, Remove to confirm.

Please note that updates from Hudl to MaxPreps will occur every 20 minutes. If you are still having issues, please Contact Hudl Support team and they'll help with your Hudl issues.
If for some reason the update HUDL roster does not sync back over to MaxPreps with the updated corrections, please contact our support team and we will be happy to assist you.